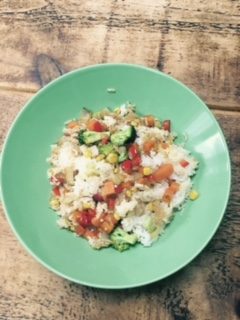 Ingredients
Serves 4
1/2 cup rice
1 diced onion
2 cloves garlic
1 tbsp vegetable oil
2 tbsp soy sauce
2 cups frozen vegetable mix (e.g. peas, sweetcorn, broccoli carrots)
Method
Cook the rice according the instructions on the packet.
Boil the frozen vegetables for 2 minutes and then drain.
Fry the onion in a saucepan for 5 minutes with the vegetable oil, then add the crushed garlic and fry for a further 1 minute.
Once cooked, pour the rice and vegetables into the saucepan with the onion and garlic. Stir through the soy sauce and your dish is ready to serve!